November 22nd 2019:
I'm rather late with this announcement, but I've been kept rather busy! From September 2019 I have been given the post of Head Piano Technician at the Fairfield Halls in Croydon. Phoenix, the British piano manufacturer that I also hold the same post at, have signed a five-year deal with Fairfield, providing eight world-class pianos for the venue as well as having the concert hall named after them. As I mentioned back in February, I was fortunate enough to help build the concert grand and several of the other pianos that are now at Fairfield and now have been enjoying preparing them for concerts, recording sessions and rehearsals. Check out what's on here!
March 8th 2019:
I'm pleased to say I'll once again be the piano technician for the Clerkenwell International Piano Series in London. The season begins this Sunday and runs throughout the year. This year I'll be looking after a beautiful Steingraeber 205 grand piano. Tickets are available online, try to catch a performance if you're in London, the performance standard is extremely high.
February 9th 2019:
February has brought me once again to one of my favourite places on earth - The Steingraeber factory in Bayreuth. It was my privilege to work alongside the craftsmen here as we produce the early stages of a new Phoenix concert grand. Excitingly, it will be the flagship piano at the newly refurbished Fairfield Halls in Croydon, due to open later this year. I will be preparing 8 pianos for the venue - an amazing job to have! You can see my photos from my trip on Instagram. Follow me @chapmanpianos.
January 22nd 2019:
Today I tuned a grand piano for two auditionees at Britain's Got Talent at the London Palladium. Such a fun job, and both acts got through! Look out for the Phoenix baby grand when it's on TV in the spring.
December 31st 2018:
I thoroughly enjoyed working with concert pianist Dennis Lee this month as he recorded a new CD of Debussy's Preludes. I had to prepare a Steinway Model D for the two day recording session at The Space in Sevenoaks. It was a great way to finish the year, one that has been full of interesting and exciting work. Bring on 2019!
July 14th 2018:
It's been a pleasure to work with some incredible people this week at a recording session at the legendary studio at Henry Wood Hall in London. Concert pianists Ivo Varbanov & Fiammetta Tarli played with the English Chamber Orchestra to record two Mozart Concertos for two pianos. I was lucky enough to be the technician looking after two fabulous Steingraeber-Phoenix E272 Concert Grands. To top it all off, it was recorded by the famous engineer Tony Faulkner - widely regarded as the UK's best classical music engineer. It was a wonderful experience to work alongside such talent.
March 21st 2018:
Spring is here at last! It was a rather brutal winter for pianos, with very low humidity causing havoc to tuning stability and actions. Now we're through the worst of it, it's the perfect time to get your piano back up to pitch and sounding great! New customers can receive 10% off their first tuning in my new Spring deal. See the homepage for T's & C's.
Returning customer? There's a deal for you too. If you refer a friend for a tuning or service, not only will they get their 10% off, you'll get the same the next time you book in a standard tuning! Book now!
January 18th 2018:
This year I'm delighted to say that I've been chosen as the piano technician for two incredible piano series. First, the Clerkenwell International Music Series, beginning next month and then the Phoenix Piano Series in April, featuring amazing artists such as Nicholas McCarthy and Oliver Poole. I can't wait to get started!
June 24th 2017:
My latest article for "Piano Addict", the online piano blog, is entitled "Partners in Full Potential". It poses the question, "is the technician as important as the pianist?" Have a read and see what you think, just click here. If you think your piano needs help reaching its full potential, contact us today for advice.
June 9th 2017:
The videos page has been updated with two brand new videos that were recently recorded at Hurstwood Farm Piano Studios in Kent. I was privileged to be in charge of tuning and preparing the pianos for this session. Anton Lyakhovsky, the Russian pianist in the videos, is an absolutely phenomenal musician - I'm sure you'll enjoy his wonderful playing.
There is also a new offer for the summer. It's a good one, so make sure you check it out on the Homepage.
April 29th 2017:
I was delighted to receive this certificate from Steingraeber & Sohne this week, following my recent training visit to their incredible piano factory in Bayreuth, Germany. To receive such certification from one of the world's finest piano manufacturers in an absolute honour!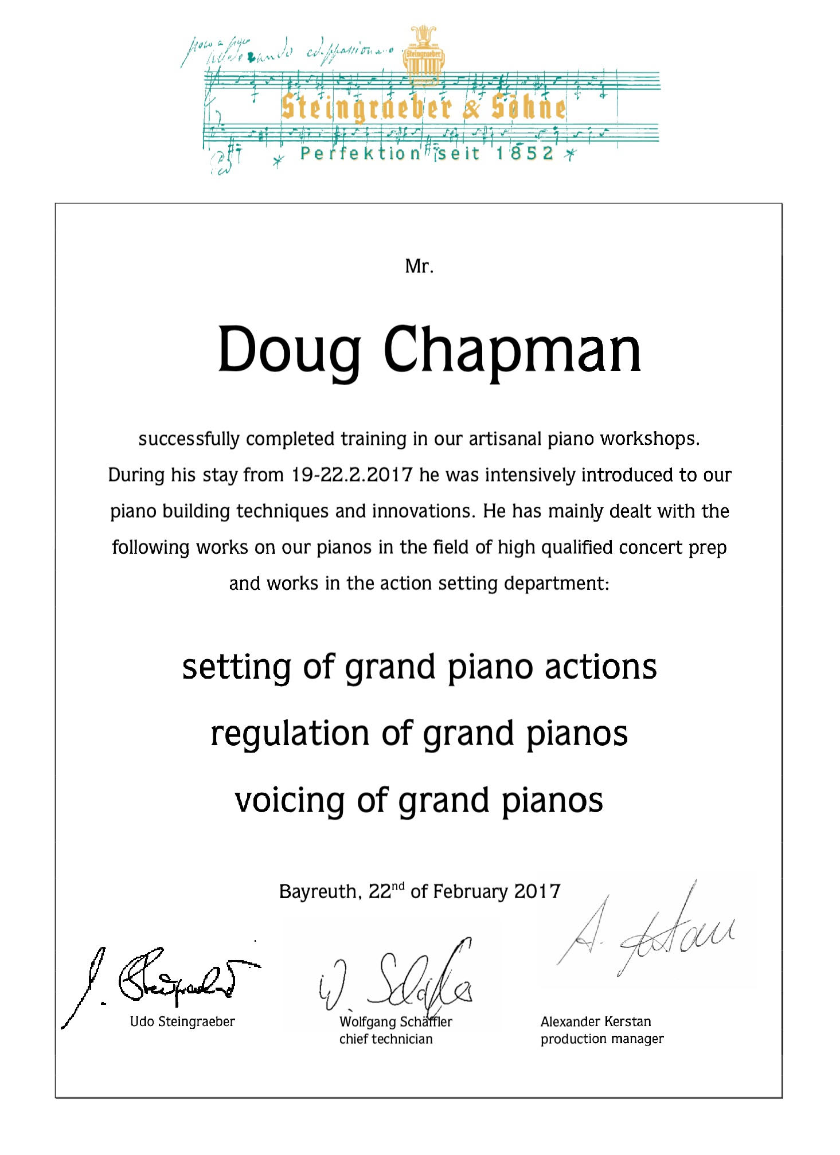 MARCH 3rd 2017:
I recently had the privilege of working for a few days at the Steingraeber piano factory in Bayreuth, Germany. You can read all about my experiences in the new Piano Addict blog.
Also, so many of my customers took up the Winter Service offer that I've decided to extend it to the Spring too. More details on the homepage.
February 3rd 2017:
Looking to buy a new piano? There's a wonderful new piano shop opened in Tunbridge Wells that has a piano for every budget. Check out www.thepianoshopkent.co.uk to see their latest stock. Make sure you mention my name to get a good deal!
Also, don't forget the latest offer of a free tuning with a full service that runs out at the end of this month. Check the homepage for more information and terms.
December 17th 2016:
In this month's article for Piano Addict, Doug discusses the current "Piano Revolution" - the recent surge in acoustic piano technology, including a piano that tunes itself! Read it here!
Don't forget the current "Winter Special Offer"! See the November 8th entry for more information.
***
November 27th 2016:
Ever wondered why a piano needs tuning? How often should a piano be tuned? How can you keep your piano in tune for longer? Read this great article to get answers to all your piano questions!
***
NOvember 8th 2016:
WINTER SPECIAL OFFER: Get your piano sounding and looking wonderful this winter with our fantastic new offer. Book in a Full Service for your piano and receive a Piano Tuning absolutely free! Just phone or email to book a Service and quote the code WINTER2016. The Service and Tuning must take place on the same piano on the same day. Offer ends February 28th.
***
September 27th 2016:
In his recent article for the online blog "Piano Addict", Doug describes what it's like to work at Phoenix Pianos. The British piano manufacturer is based on Hurstwood Farm which is also a successful nut farm, currently in the middle of a busy harvest! There's also the story of how a piano's transatlantic trip ended in disaster, what "voicing" a piano means and why it's important and news of a new documentary Doug is involved in. Read the article here.
***
July 20th 2016:
VIDEO: Earlier this year, Doug Chapman was asked to tune and prepare the world's first carbon fibre grand piano, the Phoenix Carbiano, for a very special recording session. In this video, Anton Lyakhovsky performs Chopin's Waltz, Op. 64 No.2 on this unique and ground-breaking instrument. Watch it here.
***
JUNE 30TH 2016:
ARTICLE: Read about how Doug Chapman came to be the Head Technician for Phoenix Pianos, one of the UK's only piano manufacturers, in his new article for Piano Addict, an online blog. In his story, Doug also explains how he is determined to tell the world that British pianos are once again up there with the very best. Read it here.
JUNE 21ST 2016:
VIDEO: On May 24th, Doug Chapman was asked to prepare the world's first carbon fibre grand piano, the Phoenix Carbiano, for a special recording session at Hurstwood Farm, in Kent. The pianist Anton Lyakhovsky performed a variety of pieces, including works by Rachmaninov, Scriabin and Chopin. You can see a video of Anton performing Rachmaninov's Prelude Op. 32 No.12 on the Carbiano here. If you would like to book Doug for recording or concert work, please use the Contact page.
***
JUNE 16TH 2016: